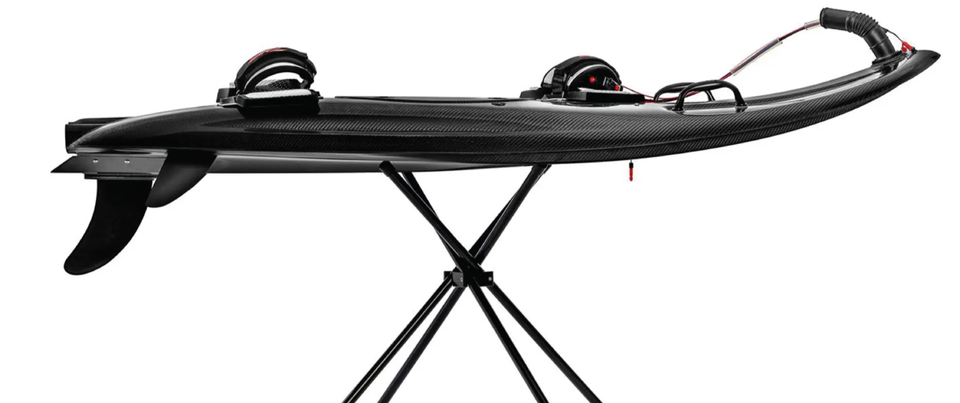 The DLEsurf Jetboard:

a Surfboard with Motor
Ron Fernandes, owner of Jetboards America, is passionate about providing high-quality customer service and taking care of each client before, during, and after a transaction. A purchase at Jetboards America is the beginning of a relationship, and we are excited about supporting our clients in their jetboard journey. We are based in Hagerman, Idaho, and ship DLE Engines jetboards nationwide. We take calls for advice and other questions as well as offering warranty repairs. We provide warm, personalized support to each of our customers.
Ron also personally water tests each board, ensuring that every board that is shipped out is ready to hit the water.

DLEsurf:

Jetsurf Gas Powered Boards
We are committed to providing only the highest quality products at the most affordable price point. DLE engines is a company that has been producing small engines for RC and ultralight airplanes for over 15 years, and their focus on designing a sleek, minimalistic design that optimizes the known functionality of a gas powered jet motor water surf board is unparalleled. Additionally, DLE engine jetsurf boards are more affordable and faster than other high-quality brands, a combination that simply can't be beat. Jetboards America carries
parts
 and offers
warranty repairs
, both of which are important for the maintenance of the jetboard surfboard. DLE Engines jet surf boards have the following specifications:
    -Weight: 18 kg
    -Displacement: 106 cc
    -Maximum Speed: 55 km/h
    -Compression ratio: 13:1
    -Fuel ratio: 30:1
    -Fuel tank capacity: 3.0 L
    -Minimum water depth: 50 cm
    -Maximum load: 100 kg
    -Recommended operational RPM: 6700-7800 rpm
    -Power: 8 kW at 7500 rpm
Our top priority is making sure our customers are taken care of. Whether offering replacement parts, a repair warranty, or otherwise being of service, you can count on us to help you with any questions you may have about the jetboard motor powered surfboard. We ship to clients nationwide.
Contact us
 or give us a call at
(208) 571-1763
today.

Testimonials
Here's what our customers have to say:
"We drove over to Hagerman to meet Ron and demo the boards. What a thrill! My husband and I have enjoyed water sports most of our lives. Ron gave us excellent instruction to dial in our deep water start and start carving on the water. Easy choice to buy the board on the spot! Thanks Ron!

UPDATE: We found ourselves in need of a part for the board. We texted Ron. He helped us to troubleshoot and sent us the part. It was on our doorstep in 2 days of texting. WOW! Such great service!"
"I have a Gen 2 DLE board that I purchased back in 2020 During Covid-19 Lock Down. I recently needed to reorder some things because I used and abused my board. Rodney was super friendly, professional, knowledgeable and upfront about helping me get back to riding. His company is wonderful and more than trustworthy. Thanks again for all of your help and guidance. Don't hesitate to contact him if you are in need of part's or service"
"Aloha, After talking to Rodney, I was assured that he had a vast knowledge of Jetboards and the mechanics behind these new sporting tools! The DLE boards are definitely the best value for what is available on todays market!!"
"Rodney always Responded to all my questions and concerns. Always prompt and professional. Very happy with my purchase."
"Needed parts for my Jetboard 1st gen and Ron was able to order parts for me all the way to the Florida Keys! If you need anything jetboard related Ron is the man to call."