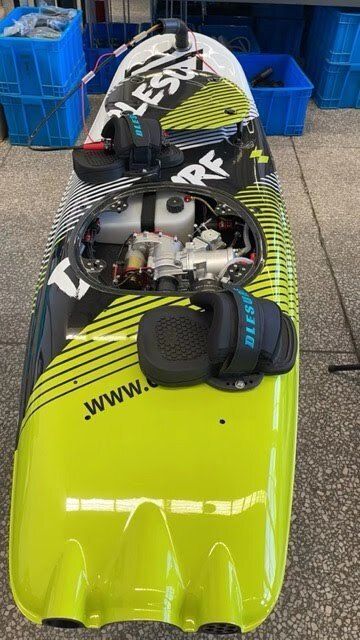 The DLEsurf: Jet Water Surf Board
Jetsurf gas-powered surfboards are becoming increasingly popular. They are comparably affordable, don't depend on water conditions, and are compact, lightweight, and easily transportable, making them a convenient option for water sports lovers. At Jetboards America, we value quality and affordability; we carry the DLEsurf surfboard, which boasts a low price point while being an industry leader in terms of quality.
DLE engines designed and produced their motor powered surfboard with one purpose in mind: to create a sleek, simplistic design that streamlined all prior innovations related to the surfboards with motors.
Specifications include:
Dimensions: 180 cm x 60 cm x 15 cm

Weight: 18 kg

Maximum speed: 55 km/h

Maximum load: 100 kg

Minimum water depth: 50 cm

Tank capacity: 3.0 L

Displacement: 106 cc

Engine type: DLE two stroke water-cooled engine, DLE106cc

Power: 8 kW at 7500 rpm

Recommended operational rpm: 6700-7800 rpm

Compression ratio: 13:1

Ignition: CDI igniter

Spark plug: NGK BM6A

Recommended lubrication oil: MOBIL 1 RACING 2T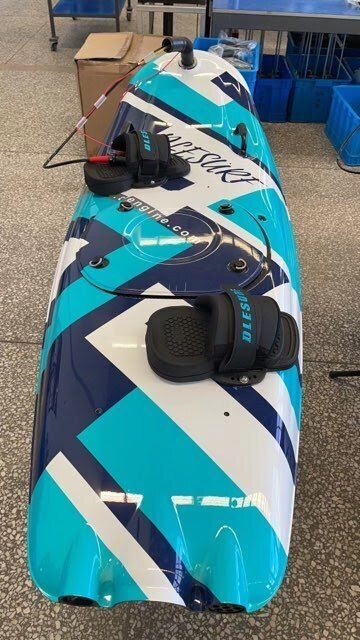 Motorized Jetboard Surfboard
We are passionate about providing an unparalleled experience to our clients. From offering DLE engine surfboards to carrying

parts

 and fulfilling

warranty repairs

, and even offering advice or answering any questions you may have, Jetboards America has your back for personalized customer service.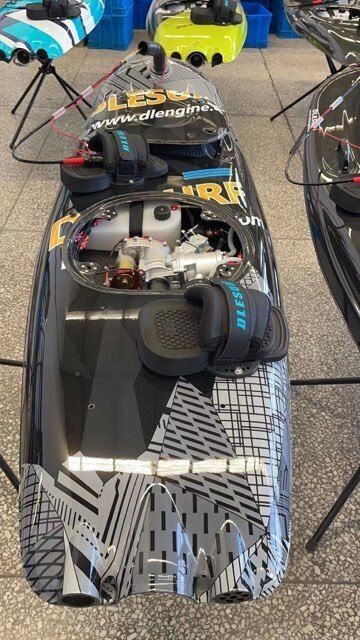 Gas Powered vs. Electric Jetboard Surfboard
We offer gas-powered surfboards; we are confident in their quality, durability, and power to give the user the experience we want to provide. One advantage of the gas-powered board is that the board is ready to go as soon as you refuel; there's no time wasted waiting for a battery to charge.
However, jet surf electric jetboards are also quite popular among our clients; also called efoil or hydrofoil boards, these foil boards have an underwater structure that catches underwater swells and lifts the board out of the water, creating a levitating effect that some surfers enjoy. While we do not offer hydrofoil surfboards or efoil boards, we wholeheartedly support surfers who enjoy these alternatives as our fellow water sports thrill seekers. Whether it is a jetsurf electric jetboard or gas-powered motorized surfboard, we are excited to see our fellow surfers out there enjoying the water! 

DLE Engines jet surf motorized surfboards are simultaneously some of the best designed and affordable boards on the market today. At Jetboards America, we bring you access to this high-quality product paired with top-tier customer service. We serve clients nationwide and ship to all 50 states. For questions or concerns, fill out our online
contact form
 or give us a call at
(208) 571-1763
today.